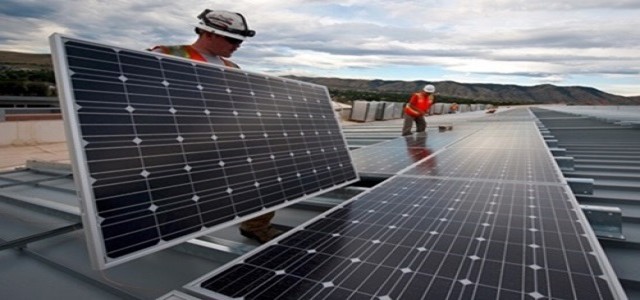 ADPower (Abu Dhabi Power Corp.) has recently announced the lowest tariff worldwide for solar power through the Al Dhafra Solar PV project.
EWEC (Emirates Water and Electricity Company), a subsidiary of ADPower, has offered a virtual read-out of 5 technical & commercial bids of consortia for the 2-GW Solar PV (Photovoltaic) IPP (Independent Power Producer) project in Abu Dhabi. The solar energy project has received the most cost-competitive tariff from the 1st-ranked bidder, which was set at US$ 1.35 cents/kWh (AED 4.97 fils/kWh) on the LEC (Levelized Electricity Cost) basis. It is over 44% lower than the tariff set 3 years ago for its 1st large-scale solar PV project, Noor Abu Dhabi.
The new project will be capable of providing electricity to nearly 160,000 households across the UAE. It will be nearly double the size of the Noor Abu Dhabi solar plant of 1.2-GW, which started commercial operations in 2019. It will lift the total solar electricity generation capacity of Abu Dhabi to around 3.2-GW as well as improve efficiency and drive sustainability by reducing the emissions of carbon dioxide by around 3.6 million metric tons/year.
According to Jasim Husain Thabet, ADPower's CEO & Managing Director, the UAE has enhanced focus on renewable technologies and sustainability by adopting renewable electricity. The electricity and water sector targets to meet 50% of the energy needs of Abu Dhabi with electricity sourced from renewable & clean energy, by 2030. It also aims to reduce the average carbon intensity of the generation system by approximately 70% as compared to 2015. The project will help meet these ambitions. Therefore, the company is working with its partners to offer this landmark solar PV project.
The project will include solar plant's operation, construction, financing, and maintenance, including the installation of inverters, solar PV modules as well as connection to the transmission network & associated facilities. EWEC obtained 48 potential bidders of the Al Dhafra Solar PV project, out of which, 24 were qualified in July 2019. Five bids were received for both the project in November 2019.
Source credit:
http://www.abudhabipower.ae/en/lowest-traffic-solar-power.html